The
8th anarchist bookfair in zagreb
was a nice event with meeting a lot of active people from the region again like
the last years
and having some interesting discussions and material exchange.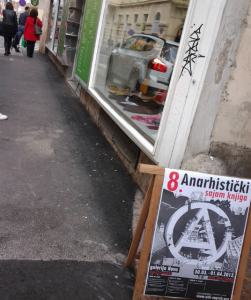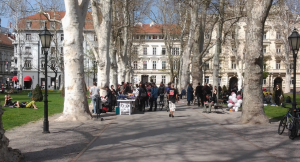 Initiatives present were from
što čitas publishing initiative
, from
active distribution
, london and others from serbia, czech and estonia as well as us from hamburg with some zines and material from
cafe libertad
.
First day there had been some discussions about local initiatives and history and hanging out in the yard. Posters of the bookfair are visible in a lot of bookshops in the city and as every year the second day was not taking part inside only, but the bookfair was moved to the central park. At the same day there had been a protest in context of
31st march european day of action against capitalism
, which started at zagreb university and ended at the bookfair in the park.
I was helding a discussion together with someone from zagreb university about technology, anarchism and social movements. I presented some initiatives who use twitter or googlemaps for political work and discussion was controverse. Is it a problem that people focus more on "virtual" activism and networking instead of "real" action and relationships? How do we deal with dependencies from infrastructure, that is dominated by state and coorporations like the hardware for the web? Time was too short to discuss more detailed, but for sure it is an important issue to rise awareness about technology use and misuse in anarchist political context.
At the third day a russian activist made a presentation about general situation in russia, antifascist struggle and anarchist initiatives. The discussion after it was about legal situation, the "department against extremism" and how the general public opinion in russia is about nazi violence and what kind of support nazi movement get from the society.
The bookfair is a good chance to get in touch with regional anarchists. We had a good time in zagreb and hope to be able to come next year, too.