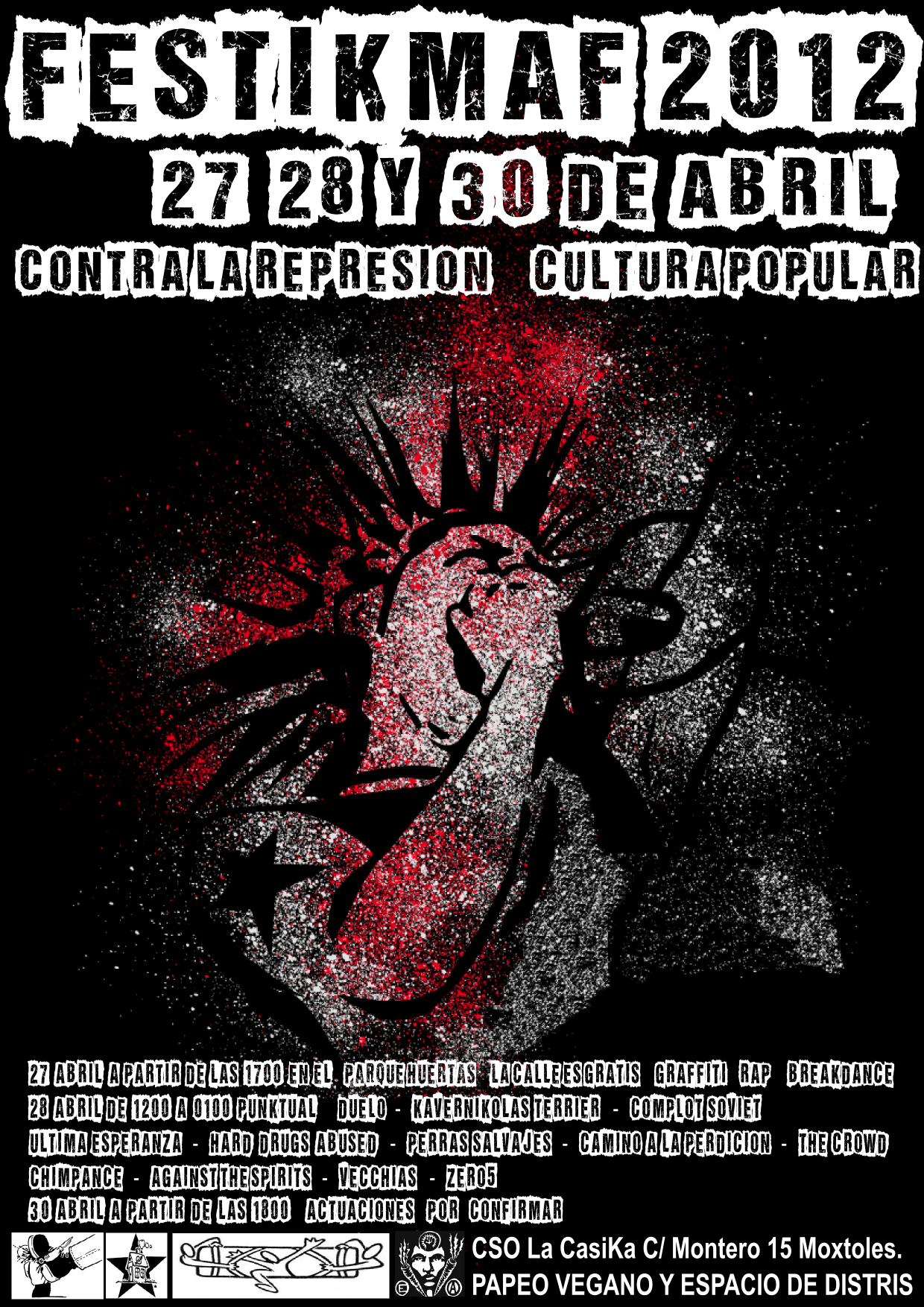 Un año más vuelve este pedazo de festival musical y cultural realmente alternativo en Móstoles, este año con alguna modificación respecto a otros años.
VIERNES 27 DE ABRIL:
LA CALLE ES GRATIS
Por segunda vez en Móstoles "La Calle es Gratis" (festival hiphop block party copiado de "La Calle es Gratis" de Alcorcón) llenará el Parque Huertas con breakdance, graffity, dj's y rap el día 27 de abril a partir de las 17h. Actuarán más de 15 grupos entre grupos del barrio, dj's y grupos invitados de otros barrios de Madrid y más allá. Habrá muchas sorpresas y también micro abierto y espacio para graffiti (trae tus latas).
¡La calle es gratis!
Tambien habra un puesto informativo de la Casika...
SABADO 28 DE ABRIL:
CONCIERTO EN LA CASIKA DESDE LAS 12:00 A LA 01:00 (puntualidad extrema)
DUELO
KAVERNICOLAS TERRIER
COMPLOT SOVIET
ULTIMA ESPERANZA
HARD DRUGS ABUSED
PERRAS SALVAJES
THE CROWD
CAMINO A LA PERDICION
CHIMPANCE
AGAINST THE SPIRITS
VECCHIAS
ZERO5
LUNES 30 DE ABRIL
tarde de artes escénicas
a partir de las 18h
- Carto magia con "El mago Fran"
- Actuación teatral "Un mundo de juguete"
- Danzas malabares y telas acrobáticas con "El Circo del COKO"

LA CASIKA MÁS VIVA QUE NUNCA!
La asamblea popular de Móstoles también ha preparado actividades para las fiestas del 2 de mayo de Móstoles el domingo 29 de abril en el Parque Huertas.
http://asambleademostoles.tomalosbarrios.net/
http://lacasika.ourproject.org/