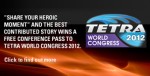 Advanced police car demonstrates the complex, intuitive technology revolutionising public safety including TETRA, TEDS and real-time video streaming over LTE

Motorola Solutions is highlighting its latest innovations at TETRA World Congress 2012 in Dubai next week (14-17 May 2012) including a new TETRA handheld radio series and what it describes as the 'ultimate patrol vehicle'.
The company says users in the field need solutions that work instantly and intuitively while ensuring their personal safety. Security and safety are at the heart of Motorola's next generation TETRA (Terrestrial Trunked Radio) solutions. Motorola will unveil a new TETRA handheld radio series that will redefine industry standards in user safety and ease-of-use as well as demonstrate the first public safety LTE device in the region.
In addition to these exciting innovations, Motorola will unveil the ultimate patrol vehicle – the future of policing, which is here today. This fully operational police car demonstrates the possibilities of the latest innovations in TETRA, TETRA Enhanced Data Services (TEDS) and LTE communications technology.
The ultimate patrol vehicle is the result of years of simulation, usability studies and field research and incorporates the latest technologies and integrated controls to enable streamlined decision-making and actions by officers on the street. The car has easy-to-reach controls with key functions tied to single button presses or simple voice commands. Its workstation runs applications such as Automatic Number Plate Recognition (ANPR) and real-time video streaming over LTE and TEDS to empower and protect officers to a level that has never been seen before.
Tom Quirke, vice president and general manager, TETRA Global Organisation, Motorola Solutions, (pictured) said: 'Motorola conducted years of research together with end users in patrol cars, who have highlighted to us the importance of intuitive technology in incident response. We have learnt that the safety as well as the effectiveness of emergency responders can be significantly improved when critical information is delivered to them in an automatic and intuitive way.
'In the car environment, this means implementing vehicle controls that are integrated and easy to use – so that actions flow quickly and intuitively, requiring little thought during incident response. The Ultimate Patrol Car at TWC will demonstrate the latest innovations in TETRA, TEDS and LTE in one car to achieve a more secure, intuitive experience for frontline officers.'
Motorola Solutions can be found at Booth G301, Sheikh Rashid Hall, during TWC 2012.
Source:
http://www.wireless-mag.com/News/20966/TWC_2012__Motorola_Solutions_to_show_the_ultimate_public_safety_vehicle_in_Dubai